Classic meets contemporary in historic Central West End home | Home & Garden
9 min read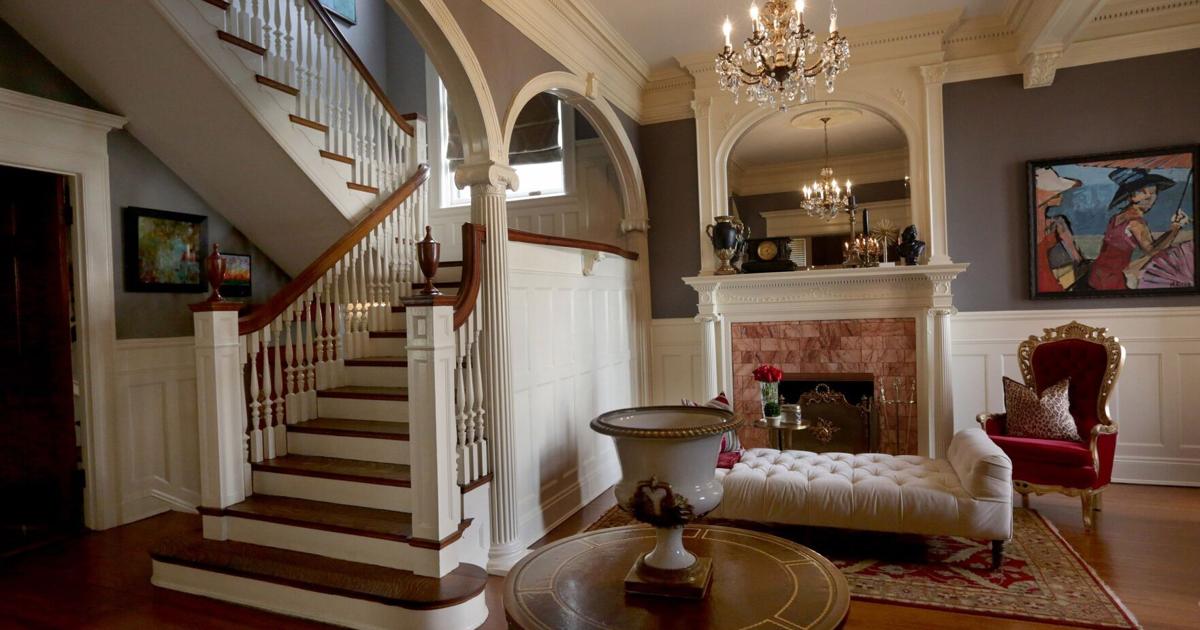 By Amy Burger Special to the Post-Dispatch

The Central West End has an abundance of tree-lined streets with stately historic homes, but the two blocks known as Fullerton's Westminster Place carries a particularly rich local history. Named for J.S. Fullerton, the man responsible for developing the private street, Fullerton's Westminster Place is on the National Register of Historic Places and its homes were designed by St. Louis architects.
This historic pedigree, along with the quiet and close-knit neighborhood drew Kerrie Caldwell-Troutman and her husband to purchase their home there five years ago. After living in the Tower Grove area for 15 years, the couple moved to New Orleans. When they decided to return to St. Louis, they focused their home search on the Central West End.
"We loved the walkability of it. We had (dog) Murphey, and we wanted a place we could take him and go to dinner and sit outside," Caldwell-Troutman says.
The home's stunning exterior caught their eye when they parked in front of it on the way to view another property on the same block. It was for sale, so they decided to take a look.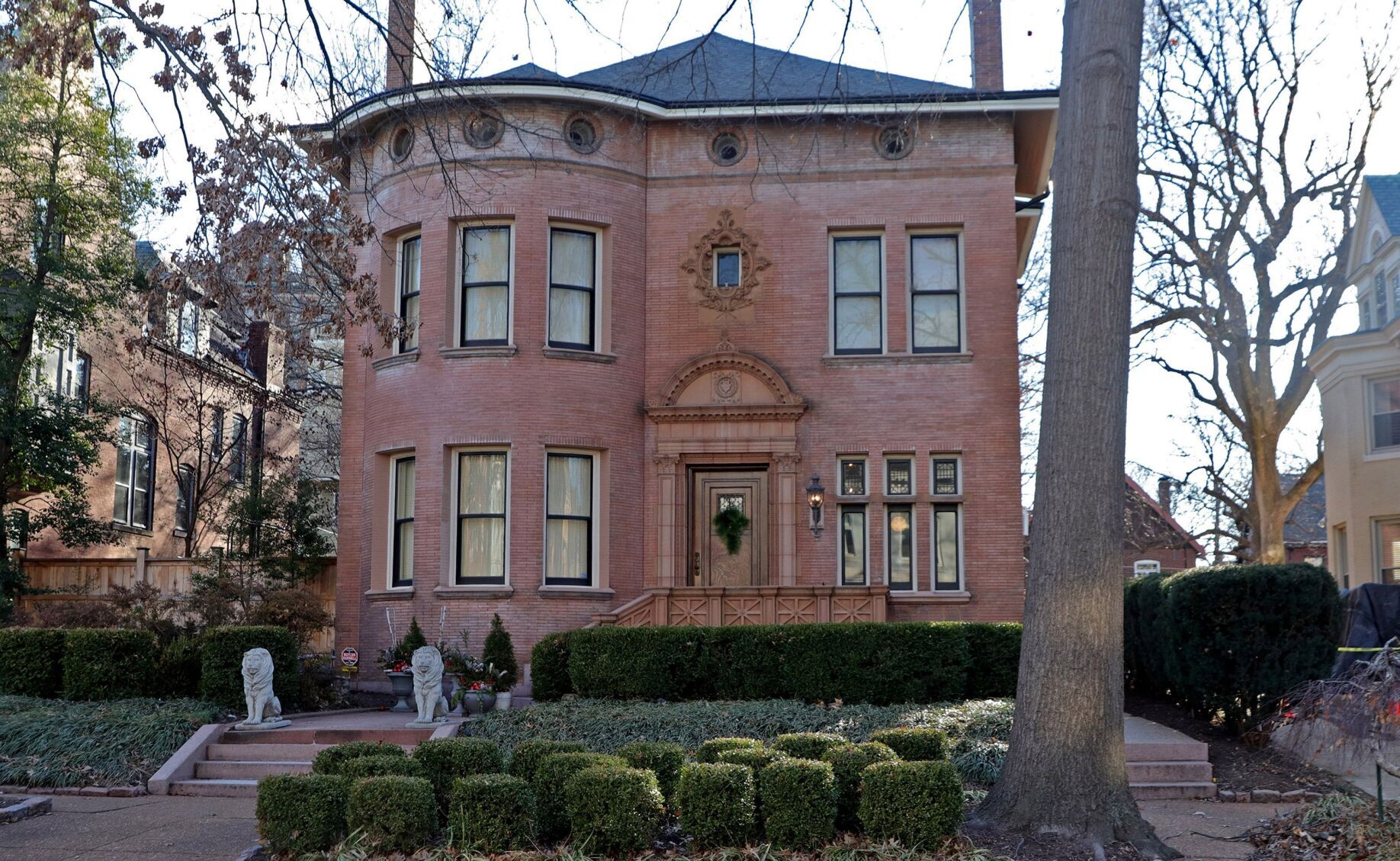 Built in 1894, the house was designed in Italian Renaissance style by the architectural firm of Grable and Weber, which designed many prominent local homes of the era. The façade is a faded orange brick with terra cotta ornamentation and unique features like a row of small, portal-style windows just below the roofline.
"The previous owners lived here for 25 years and took impeccable care of it. We walked in the dining room and said, 'Just think of the parties we'd have in this house.' That sealed the deal for us," she remembers.
Caldwell-Troutman and her husband love to entertain, hosting parties and gatherings with friends. Her parents, who live out of state, are regular houseguests. With 6,700-square-feet of living space, the three-story home was perfect for all of their needs. The bones of the house were in good shape. It just needed some cosmetic renovations to suit the couple's style.
Long a collector of antiques, Caldwell-Troutman loves to mix estate sale finds with classic contemporary furnishings.
"One of my favorite things to do on Saturday mornings is go to estate sales. I grew up with my parents always collecting antiques, so for me it was just what we did. We'd go to antique stores and go on a search for something, and I just always loved doing that," she says.
A huge fan of the RH brand (formerly Restoration Hardware), furniture from the retailer can be found throughout the home. "It's classic so it works well with antiques but also has a touch of contemporary to it."
When making updates, Caldwell-Troutman says the goal was to honor the home's architecture while making it feel more contemporary. As soon as they moved in, she began choosing paint colors and light fixtures. They sourced a number of period-appropriate chandeliers from Jon Paul Designs in Richmond Heights. Others, they brought up from New Orleans.
A color palette of rich browns and grays throughout the home gives it a cozy feel and provides the perfect neutral backdrop for the couple's extensive collection of mostly local art, including paintings by Alicia LaChance, John Marksbury, Metra Mitchell and others.
Gallerist and artist Charles Houska, owner of the nearby Houska Gallery, is a close personal friend who has helped them build their collection over the years.
"When we were younger and didn't have the money to buy a lot of art, he would showcase local artists and helped us out and gave us a discount. He did it so his friends could collect real art. That's really how we started our collection. We made a lot of friends who are artists through Charlie, and it's been really cool to be part of that art scene in St. Louis," Caldwell-Troutman says.
The house features seven fireplaces, original millwork and all original door hardware. Much of the original hardwood flooring has been restored as well. Architectural details like 11-foot cove ceilings, arched doorways and the dining room's stunning coffered ceiling highlight the craftsmanship of the era.
The couple completed a gut remodel of the kitchen in 2018. Their friend Raj Tailor of Portica Real Estate, who helped with the purchase of the home, assisted with design elements in the kitchen from the cabinet profiles to the ceiling details and windowsills. Tuscola, Ill.-based Das Holz Haus custom designed the navy glazed wood cabinetry for the space, including a wall of glass-front cabinets especially for displaying Caldwell-Troutman's collection of vintage barware. The cabinets were built around the home's original radiators, disguised under brass mesh panels.
Guest bathrooms on the second and third floors include beautiful original marble walls and sinks, and claw-foot bathtubs. The large master bath was tastefully remodeled by the previous owners with a glass-walled, marble tile shower, heated marble floors and a double vanity.
What was once the third floor ballroom now serves as a cozy family room for relaxing and watching TV. The couple's dog, Murphey, enjoys looking out the portal windows, which sit just at his height.
Though it is a lot of space for two people, Caldwell-Troutman and her husband use the whole house and enjoy sharing it with their favorite people.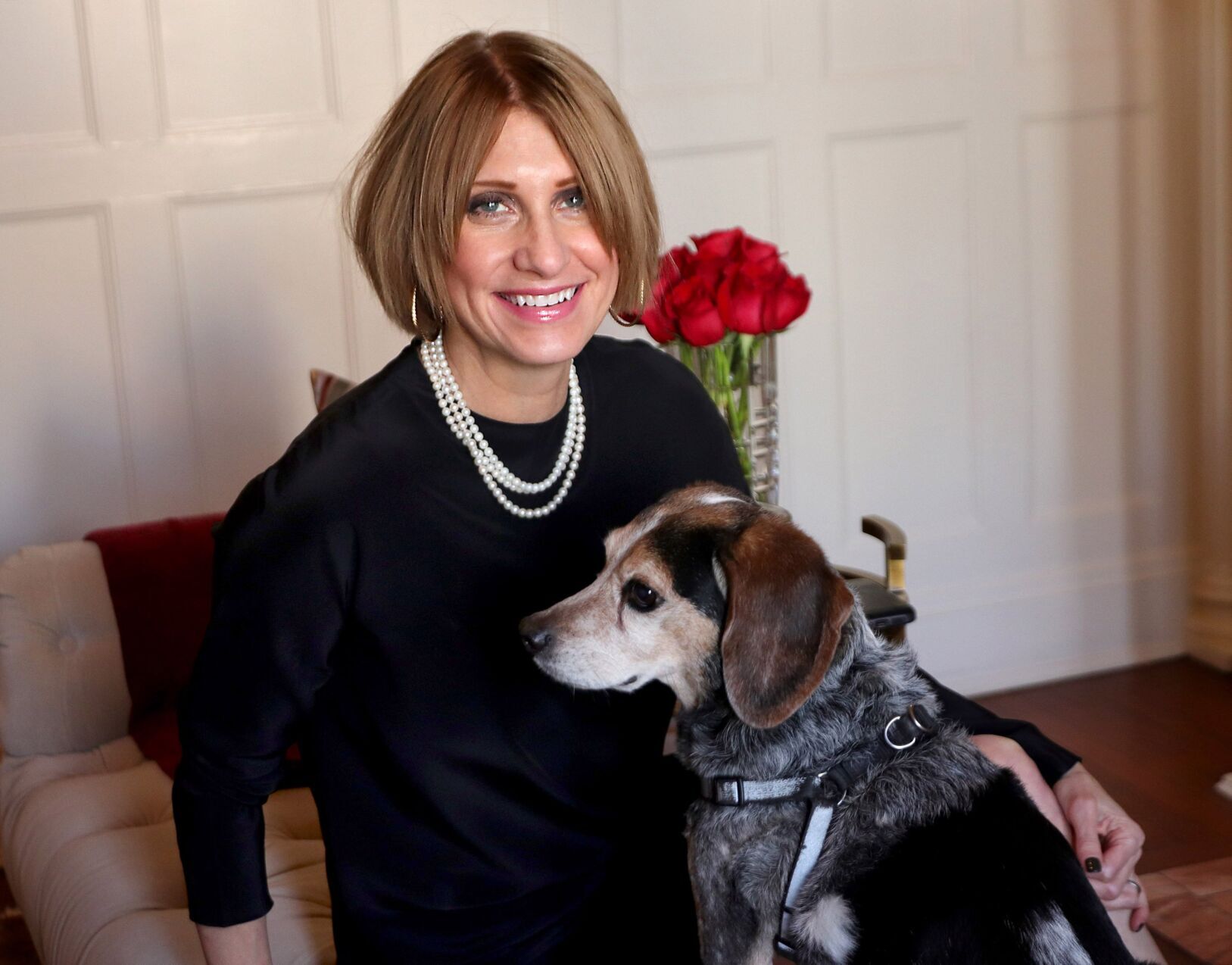 Occupation • Southeast regional manager for men's retailer Bonobos
Family • She shares the home with her husband and their dog, Murphey