Rustic meets artistic in Darin and Tracy Sims' barndominium | Home & Garden
6 min read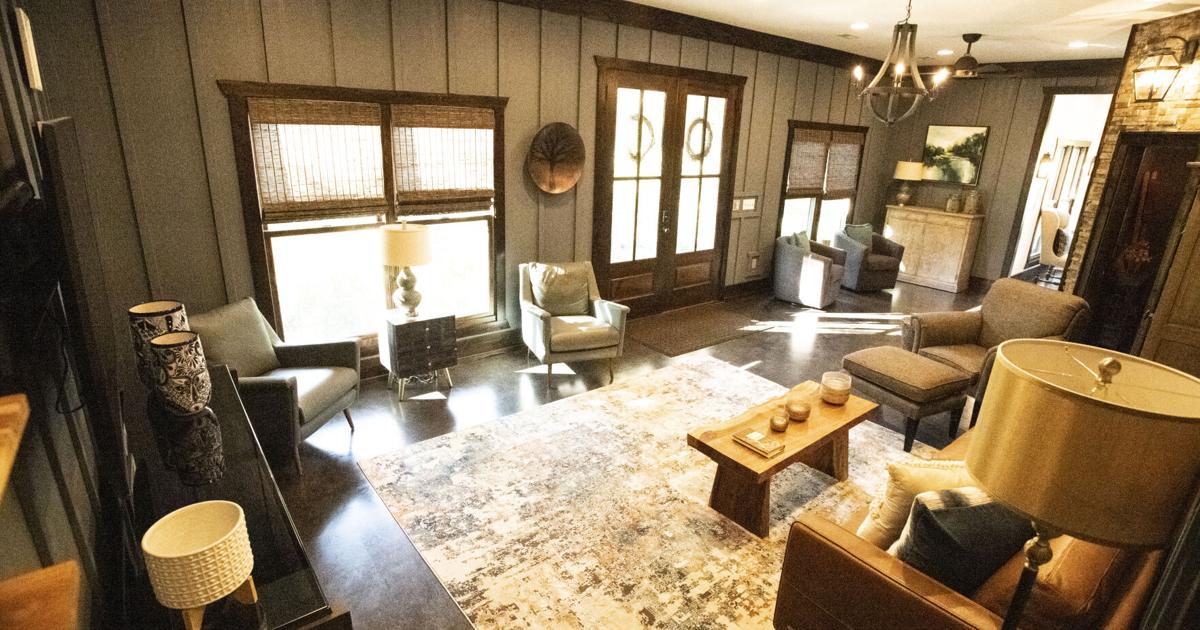 "Well," Darin Sims said, "it all started as a barn workshop. But…"
"… It kind of got out of control," Tracy Sims finished.
Darin and Tracy reside in Anniston's Choccolocco Valley area. Follow the winding roads through peaceful neighborhoods and past open fields, and you'll eventually arrive at their seven-acre property, where the latest addition to the picturesque land is a stunning barndominium (that's barn + condominium, "barndo" for short).
What began as a future workshop for Darin soon evolved into a full-fledged living space. With the help of local interior designer Scott Skinner, the couple ended up creating a space that combines the traditional charm of a barndo (think sturdy wooden accents and warm earthy tones) with the whimsy of a colorful apartment (think vibrant painted ceilings and dazzling koi fish wallpaper).
"My son and daughter-in-law were getting married," Darin said. "My daughter-in-law says, 'You know, I've always wanted a barn wedding.' And I'm like, 'Well, you know, we're building one.' Then Scott got involved and it became an upstairs apartment. And since you've got an apartment upstairs, you've gotta have a kitchen. The more they talked, the smaller my workshop got," he joked.
Located just off to the side of their main house, the barndo is a two-floor structure that features two bedrooms, two baths, a full kitchen, an outdoor grilling area and a patio. Construction took place around the start of the COVID-19 pandemic, and the goal was to have everything finished in time for their son Garrett's wedding, set for April 2021.
"We were lucky," Tracy said. "We got this in right before prices went through the roof. It would probably cost 20 or 30 percent more now. Toward the tail end of it, it was taking a long time to get the furniture that we ordered. But we got everything done just in the nick of time." 
The barn's decor and furniture is a mix of pieces the couple already had, pieces they picked out themselves and pieces Skinner picked out according to what he thought they might like — some of which were inspired by the couple's travels.
"That's what's so great about him," Tracy said. "He does it according to your taste."
The Sims, who both work for Pinnacle Research Group conducting clinical drug studies, bought their home in 2017 after seeing it while on a bike ride. In addition to the new barndo, the property boasts a vegetable garden, a greenhouse, a beekeeping area where Darin makes his own honey, and a breathtaking view of the Appalachian foothills. There's plenty of room for their two dogs — Lucy and Mollie — to run around, play and rendezvous with other neighborhood pups on the property.
While it has served them for personal usage and for their own guests, the Sims recently decided to list the barndo on Airbnb for travelers to rent out. The day after the listing went up, they got their first booking.
"We're like, 'Wait, we still have our stuff in there!'" Tracy said. "It's been busy nonstop. You wouldn't think Anniston is a destination, but apparently it is."
"We thought we'd put it out there and someone would eventually find it, but they found it within a couple minutes," Darin said. "We got a couple attorneys coming to stay for like nine days because of the new federal courthouse. It's interesting because we learn a lot about the people who come stay here."
Contact Features Editor Danielle Stallworth at [email protected].